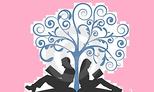 ​Two is a Lie is the second book in the Tangled Lies series. This series must be read in order. If you haven't read One is a Promise, back away from this review, grab a copy of the first book, close and lock your door and get ready to have your heart torn in two.

Excuse me while I try to remove my heart from the pit of my stomach. Yes, the angst and emotions were amped up even more in this book. Best feeling ever if you're an angst lover, which I am. After finishing the first book, I was beyond anxious to get back to the messy, complicated dilemma that Danni had found herself in. And with the way the first book ended, I knew that Danni would be faced with a terrible decision. Having two gorgeous, strong-willed, sensual men who are in love with her and willing to stand by until she decides which one of them will have her full, complete heart may sound like a dream come true, but for Danni, choosing between them can only mean that one of them is leaving broken-hearted.

Let's face it, it doesn't really matter how accepting and willing Cole and Trace are, nobody wants to see the love of their life spending time and dating another man. It doesn't even matter how many rules are in place to safeguard your heart. Jealousy will always play a part. Hurt feelings will always be present. Heartache and uncertainty will always be looming over the dreams and future that you hold dear. And it's all of those feelings that make a fictional love triangle so tantalizing.

Two is a Lie left me in quite a conundrum. Who should Danni choose? Which man is her true soul mate? Can she have more than one soul mate? I usually have a favorite character that I am rooting for in any love triangle story, but I can honestly say that I liked both men (unlike Angel, bless her little demonic heart). While they had some similarities, they were also like night and day, oil and water, hot and cold. Each one offered up a different life for Danni, however, they both would undoubtedly be able to provide her with a fierce and passionate love that would make her feel cherished, protected, and desired.

Two is a Lie is an addictive, fast-paced read that is filled to the brim with feeling and emotions. It is a tangled web of secrets, lies, manipulation, and incredible passion that left me frantically flipping the pages to discover what was going to happen next with this threesome. Who could Danni trust? Could or should she trust either of the men? Could she trust her own heart? I don't know what to think or who to believe! Oh, and that ending? Danni! Gah! If Three is a War…may the battle begin!



*5 Stars