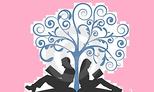 There are a few authors whose books always leave me wondering how they are able to imagine such thoughtful, heartfelt stories. Amy Harmon is certainly one of those authors. Her writing never fails to deliver a touching story that fills me with so many emotions and leaves me completely satisfied. I always have to pause after reading one of her books and just let all of the goodness sink in.

I read The Law of Moses earlier this year, and I can honestly say that it has earned a spot as one of my all-time favorite books. Needless to say, The Song of David moved up in priority on my TBR list. I loved the relationship between David and Moses. Their circumstances were most definitely unique (just like them), but they developed a mutual respect for each other and a long-lasting friendship was formed.

I'm not going to get into the details of the story. It's essential that the reader take this journey on their own, appreciating every piece as it unfolds. As always, Amy Harmon has created such a special story that is meant to be read, savored, and enjoyed by the reader. Her characters are equally as special. They are intricately developed, leaving the reader feeling a personal connection to each and every one of them.

The Song of David is a lovely story of friendship, perseverance, strength, and love. I am not the type of reader who searches out books that will make me cry, in fact, I don't really like to cry while I'm reading, however, for the last twenty-five percent of this book, the tears were just rolling down my cheeks. It was simply an unavoidable reaction to reading such beautiful words.





*4.5 Stars