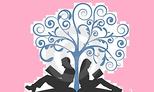 ​

​What an amazing journey! I'm ashamed to say that this was my first book by this author, however, on the bright side, I now have her other books to look forward to.

The Great Alone is a well-rounded story that pulls the reader into the story and into the rugged, ferocious beauty of the Alaskan wilderness. It's a story about family, loyalty, love, and survival, not only survival from the harsh elements, but also the harsh reality of life within the four walls of Leni's family's cabin.

The Allbrights were always in search of just the right home environment to settle down. When Ernt Allbright returned home from the war, his wife said that he returned a different man. With mood swings, anger issues, and the inability to hold down a job, he was never content with his surroundings, but he genuinely believed that he had an abundance of love for his wife and child. When times were good, he did love them with his whole heart, but when Ernt was struggling, it just wasn't enough to keep them safe and out of harm's way. A move north to the abundant beauty and isolation was what he thought would be in his family's best interest, but leaving life as they knew it to settle in the remote wilderness of Alaska, without any basic skills of survival in the north, was a big gamble.

Life in Alaska presented many challenges for the Allbrights. It was a learning experience, a living experience, and often a life-threatening experience. Alaska was home to many eclectic people searching for something, whether it was anonymity, seclusion, or an escape from the "outside." It offered them an opportunity to recreate themselves. While it wasn't truly the lifestyle that Cora and her daughter had been looking for, they were happiest when Ernt was content, unfortunately, this new Alaskan lifestyle would pose challenges and dangers that would threaten their very existence.

This is a beautifully written story that transported me from the warm, safe surroundings of my living room and transplanted me into the Alaskan wilderness. I felt as though I was right there with the characters, learning this new life, experiencing their hardships. Leni's apprehension, her isolation, her fears, and her love and devotion for her family and friends was palpable. She was a young girl who was put in a difficult situation at a young age, but her resilience and perseverance helped to turn her into the strong woman that she became.

With a colorful cast of characters, a gripping story that will not only fill you with emotion but keep you on the edge of your seat, The Great Alone is a wonderful story that will take you on a journey that you won't soon forget.



*5 Stars