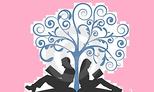 ​How frustrating and frightening would it be to relive the same terrible day over and over again? Rachel Lynn Solomon takes this scenario and runs with it in a fun, adventurous, romantic read.

Barrett Bloom just wants to reinvent herself after her lonely, disastrous high school years. She is hopeful that her freshman year of university will be the fresh start that she needs. Unfortunately, her first day of university isn't the smoothest, brilliant start that she had anticipated. What could go wrong does go wrong for Barrett, and what makes matters worse is that she wakes up and has to relive that day all over again.

I liked Barrett. She didn't have much of a filter. She used humor to mask her emotions. She was outspoken. She was an entertaining character. But underneath it all, Barrett was lonely and just wanted to be liked and accepted. It was easy to feel for her situation, and I found myself on Team Barrett very quickly.

Miles didn't make the greatest first impression on Barrett. He came off as unfriendly and arrogant in their Physics 101 class, even having the nerve to call her out in front of the whole class. Everyone just wants to slide into anonymity in a huge seminar on their first day. How dare he bring attention to her!

When Barrett realizes that she is stuck in a time loop, she soon discovers that Miles has been stuck in it for far longer (which could account for his poor attitude at the beginning). Soon they are teaming up in order to find a solution to their problem and a way to break free of the time loop and make it to tomorrow.

Nothing can bring two people together like a mutually bad situation. They were spending a great deal of time together, trying to figure out how this had happened and how they could rectify the situation. This meant that they were getting to know each other better, breaking down their barriers, being more vulnerable, and having a good heaping of fun at the same time. While mayhem ensued and adventures were had, their feelings toward one another grew as well.

See You Yesterday was a fun, imaginative novel that kept me happily flipping the pages. Rachel Lynn Solomon created a wonderful story with a great cast of characters complete with a surprising little twist.



*4 Stars