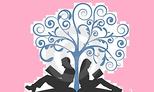 Love Me Do was everything that I was hoping it would be. It's a Cyrano de Bergerac-esque love story with plenty of heart, humor, and romance.

Phoebe is taking a two-week vacation to visit her sister in Los Angeles. She's hoping for some rest and relaxation, a bit of sightseeing, and some quality time with her sister. What she wasn't looking for was a gorgeous, interesting, sweet neighbor to get her heart racing. But Phoebe isn't looking for love. After a difficult past relationship, she's more than happy to steer clear from any possibilities of getting hurt. So, when a friend of her sister needs her help to communicate with a man, who better to ask than Phoebe, who just so happens to be a greeting card writer. The only downside is that the man that she's going to attempt to woo on behalf of this other woman just so happens to be the gorgeous neighbor. Of course, it is.

Phoebe writes a beautiful love letter to Ren expressing all of the things that Bel is unable to say for herself. Phoebe's words leave Ren curious and interested in meeting up with Bel. Mission accomplished, right?

I loved the whole story in Love Me Do, but a book is nothing without its characters, and this book was filled with a fabulous cast of characters. I became fast friends with Phoebe. I loved the quirkiness of Bel. I was enamored by Ren, and I completely adored Myrna Moore. Myrna Moore was old Hollywood personified. Every chapter that she was in had me laughing out loud. She was perfection!

Love Me Do was just a pleasure to read. I enjoyed every minute that I spent with these characters. When I reached the final page of the book, it felt more like saying a fond farewell to some close friends. I highly recommend this novel, and I'm already looking forward to reading the next book by Lindsey Kelk.



*5 Stars