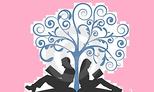 As soon as I read the synopsis for In Five Years, I knew that I had to read it. Was it everything that I had expected? No, but in this case, that certainly wasn't a bad thing. Rebecca Serle turned this story around in a way I hadn't anticipated, it was so much more, and it ended up being just what my heart needed.

Dannie Cohan is a woman with a plan. She knows what she wants, when she should achieve it, and has her life pretty much all mapped out. Spontaneity isn't needed in her life. She likes to be in control of her destiny. She's an ambitious lawyer whose career is taking off as planned, she has a great boyfriend who is the perfect fit for her life, and everything seems to be on track to her ideal life. When a dream/vision of Dannie in 2025 shows her with a new man, in a romantic setting, Dannie's shaken and questioning what this all means for her future. Is she really in charge of her own destiny or is it fate that will decide where her life leads?

After bottling up this dream for four-and-a-half years, Dannie comes face to face with this "dream man" and, once again, for someone who cherishes control, she is faced with the unknown. Can she fight fate and alter what is meant to be?

Oh, how I loved this story! In Five Years is more of a beautiful love story between friends than a romance. It's a story about loyalty, destiny, being true to yourself, and letting life happen. I was completely captivated from beginning to end. It is a lovely story that is equally heartbreaking as it is hopeful. It's not a novel that I was able to finish and then simply move on from. In Five Years is a story that will stick with me for some time to come.





*5 Stars