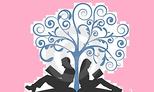 Don't be fooled by the cute cover, this book packs an emotional punch. If you're looking for a few laughs, this is the book for you. If it's a deeper, emotional story-line that you crave, look no further. If you're in the mood for romance, you'll find it within the pages of Husband Material. There's nothing that I enjoy more than a well-rounded reading experience that has me feeling a gamut of emotions, and this book certainly provided just that.

Husband Material swept me up in Charlotte's life. I was on her side from the very first page and completely invested in the story. As a reader, I always try to put myself in the protagonist's shoes and imagine how I would feel if I were living her truth. My heart hurt for Charlotte. She had been a widow longer than she had been a wife and she was just trying to move on in the best way possible. Charlotte's methods of coping and moving forward may have been a bit out of the ordinary, but then again, most twenty-nine-year-old women don't have to face what she'd had to face over the past five years.

Husband Material isn't just a romance, it's a book that deals with grief, moving forward, friendship, and forgiveness. It had just the right amount of levity to balance out the serious nature of the story.

It's always a good sign when you finish reading a book and immediately go in search of more books by that author. I enjoyed my time spent with these characters and am looking forward to more from Emily Belden in the near future.



*4.5 Stars


​