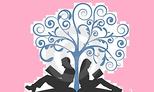 What a delightful book! While I was reading One Day in December, I kept thinking that it would make a wonderful movie. All I wanted to do was curl up with a blanket and this book and immerse myself in the story.

I loved the concept, the characters, and the direction that the story went. Do you believe in love at first sight? The eye contact and feeling that you've just met your soulmate? Neither did Laurie, but it happened to her on, of all places, public transit. It was a missed connection that was made between two people who were just trying to get home after a long day of work. She felt like she needed to try and find him again, but it was easier said than done. When she finally did see him again, it wasn't the way she had ever envisioned – Wow! Bring on the angst!

I loved all of the highs and lows of the story, and yes, I'll admit that I'm a sucker for a tension-filled story that fills my stomach with butterflies. I felt so much while I was reading this book. I cared for the characters and I was easily swept up in all of their lives. The story took place over the course of several years, so there was a lot that transpired in that time. I enjoyed watching the characters develop, change, and grow over the years. It was filled with plenty of heart, charm, and its share of humor, but the story wasn't always easy, it was often turbulent, heartbreaking, and painful, but I wouldn't have wanted it any other way.

One Day in December was a lovely reading experience. I thoroughly enjoyed every moment that I spent within these pages!





*4.5 Stars