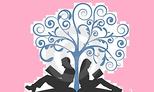 ​This novel deserves every bit of the praise that it's been receiving. As soon as I began reading The Love Hypothesis, I knew that I had found a gem. This is a fabulous debut that, after finishing it, had me wanting to go back to page one and read it all over again.

I adored Olive right from the very beginning. She's intelligent, sweet, loyal, and quirky. I wanted to be her friend! When she needed to convince her friend that she was dating someone new (which she wasn't), she grabbed the first guy that she came across in the hallway of her department. Lo and behold, she ended up kissing a highly revered, unapproachable, and feared professor. Yes!

Dr. Carlsen was everything that I wanted in a grumpy, scholarly, unfriendly character. With his uptight, rigid personality and Olive's awkward, witty charm, these two were pure gold.

As a fan of slow-burning romances, this one was perfection. I felt Olive and Adam's attraction from the get-go, but the author took her time to build their connection and, in turn, built up my anticipation. There's nothing better than falling in love right alongside the characters, and that's just what I did. From the butterflies in my stomach to the pins and needles of anticipation, this book put me in my happy place.

I honestly loved everything about The Love Hypothesis. It was filled with humor, heart, romance, wonderful characters, and clever writing. If you've already read this book, you know what I'm talking about, but if you haven't read it yet, do yourself a favor and read it! I promise that you won't be disappointed.

This is one of the best books that I've read this year!



*5+ Stars