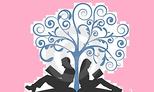 This book took me somewhere I hadn't expected it to, but I certainly enjoyed the trip.

This book has it all: drama, romance, and psychological suspense. In all honesty, I was in my happy place while I was reading Can't Look Away. It had everything that I love in a novel, and I was hooked right from the beginning.

This novel is about young, all-consuming love. When Molly and Jake's eyes meet at one of his band's shows, their connection is instantaneous. With Molly being an aspiring author and Jake being a musician and songwriter, their creativity feeds off of their passionate relationship. Their relationship had its share of peaks and valleys, and boy, did I feel all of the angst, tension, apprehension, and butterflies.

The book it told from the past and the present from different characters' perspectives, over the span of nearly a decade. There's nothing better than getting into the minds of the various characters, seeing what makes them tick, witnessing the lengths that they will go to in order to get what they want, and feeling like a fly on the wall in their lives.

Where this story crosses many genres, I was never certain where the author was going to take this story or her characters. I never really trusted any of the characters. My suspicions were always on high alert, and I sat on pins and needles, filled with apprehension through all of the dysfunction while I waited for everything to be revealed.

Can't Look Away hit the mark for me. It was a titillating page-turner about love, jealousy, and obsession that made my heart race in the best way.



*5 Stars