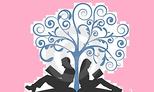 Heard It in a Love Song was one of my most anticipated novels for 2021. As a big fan of this author's writing, I knew that she would take me on a captivating and emotional journey.

The story alternates between Layla and Josh's perspectives. I was invested in the characters. They were normal, relatable, and vulnerable. Both of their marriages are over, and they are each navigating single life again. While we are witnessing them in their present-day lives, we also get flashbacks into their pasts. I enjoyed this aspect of the book. It gave me an insight into what pivotal moments had impacted their lives, hopes, dreams, and marriages.

Heard It in a Love Song is not an overly dramatic novel. While I was engaged in the story, I felt a quiet, introspective nature to it. I got to know the characters, got to see what their lives were like, understand what they wanted out of their new normal, and see how their marriages faltered. It was a realistic story with realistic characters, and that's what I enjoyed the most about it.

This is a story of second chances, realizing what you want out of life and taking control. Layla may have abandoned her dreams, but she never forgot them. Music lit her up inside. Performing, singing, and playing guitar were her true passions in life. By letting that all go, she let a bit of herself drift away with it, but she was slowly regaining what she had lost as she maneuvered through her new life as an independent, single woman.

Josh married his high school sweetheart at the age of eighteen. They had enjoyed and basked in all of the beauty and newness of young love, struggled through the meager years as they tried to make ends meet, found their passions, and were raising a young daughter together. But even though they shared a past and many years as a couple, the luster and spark had fizzled, leaving them feeling alone in their relationship.

I liked seeing Layla and Josh's relationship blossom. It was mature, but they still had all of the fluttering and excitement that you feel when you begin falling for someone. Just like them, their relationship wasn't perfect, but it was a work in progress, a "relationship with potential." This was a time for them to realize what they truly wanted out of their lives and make it happen.

Heard It in a Love Song was filled with hope, second chances, inspiration, and music. It's just another example of why this author is high on my list of must-reads.





*4 Stars


​