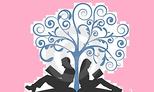 I always enjoy finding new-to-me authors who write the types of books that just seem to hit the mark for me. But wait, this is not just an author who is new to me, this is Jen Devon's debut novel. Let me just say that if this is her debut novel, I cannot wait to see what her second, third, and fourth (et cetera) novels are like!

Bend Toward the Sun is beautifully written, intelligent, emotional, touching, romantic, and it made me want to go outside and play around in my flower beds. Through the author's vivid descriptions, I was able to visualize every location, plant, and blossom.

A big factor in enjoying a novel is liking its characters. Rowan and Harry were intellectual, flawed, troubled, and very likeable. Do I want to read about perfect characters who are issue-free? Absolutely not. Give me characters who have hurdles to get over, realistic and normal feelings, and who I will root for from page one. Even the secondary cast of characters were well done and intriguing.

I loved the interactions, banter, and back and forth between Rowan and Harry. I appreciated that the author took her time in developing their relationship. It never felt rushed or forced. They were each dealing with their own issues, and she allowed the reader to get to know them, to feel their attraction, apprehension, and desire to heal.

I enjoyed Bend Toward the Sun from beginning to end. It had a wonderful story, a great cast of characters and, if I were a betting woman, I would be willing to bet that there could be more books about the other characters. The author had certainly piqued my interest in them, and I would definitely like to have a few more trips back to the Brady's vineyard to discover more about them.



*4.5 Stars