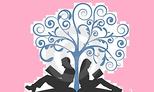 You know that feeling you get when you finish a book and you just sit and wonder how you are going to move on from it? The Girl He Used to Know was one of those books. After just reading the first few pages, I knew that it was going to be a special, heartfelt reading experience, one that would make me feel every emotion, not only while I was immersed in it, but long after the final word was read.

The Girl He Used to Know is a unique second chance love story. It's also so much more than that. It's a multi-layered story that is overflowing with emotion. It's an honest portrayal of a young woman's challenges as she maneuvers through life and love. Annika is going through all of the normal stages that young adults face: university, making friends, falling in love, and learning to be independent. For Annika, these normal events present more of a challenge than they would for many young people. As a reader, I felt as though I was right there beside her, cheering her on, shedding a few tears, smiling at her victories, and wanting to see her succeed at everything that life had to offer her.

The story alternates between two different timelines, from the year when Annika and Jonathan meet to ten years later, when they reconnect. This was all done seamlessly and perfectly. It allowed me to witness their relationship develop, to wonder why their relationship had faltered, and to see if what they once had was worth rekindling all of these years later. Their relationship certainly wasn't without its hardships, but it was such a sweet, caring, loving relationship. Despite their differences, they brought out the best in each other.

Tracey Garvis Graves has written Annika and Jonathan's story with sensitivity, grace, and an abundance of heart. As the story revealed itself to me, I was completely under its spell. It was a captivating read that gave me everything that I could have hoped for and so much more. Words can't properly express how much this book moved me. As much as I would like to divulge all of the pivotal pieces that touched my heart, I don't want to spoil the journey for any other readers. The Girl He Used to Know is a book that holds a special place in my heart.





*5 Stars