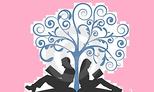 Some people are still drinking margaritas, others are sipping pumpkin spice lattes, and I have gone straight into hot chocolate season. After the past eighteen months, I'm of the belief that we could all use some magic in our lives. If you're looking for a holiday escape that is filled with hope, friendship, and meaningful connections, The Santa Suit is for you.

After her recent divorce, Ivy Perkins is carving out a new beginning and taking chances. After buying an old farmhouse sight unseen, moving to a different state, and trying to maneuver through her new life, Ivy certainly has her work cut out for her. The beloved farmhouse may have a ton of charm, but it is also in need of some renovations. With the discovery of a child's letter in an old Santa suit, asking Santa to bring her father back from the war, Ivy's curiosity is piqued. She begins to question what could have happened to this child and her father.

The setting for The Santa Suit was ideal for this holiday novella. The community was one that I could picture vividly as the story played out. What began as Ivy on her own, quickly transformed into her making some wonderful friendships within the community. It's these connections that make for a cozy, heartwarming read.

With a mystery, a touch of romance, and a couple of twists, The Santa Suit brings out all of the warm fuzzy moments that you would expect from a holiday novella.



* 4 Stars