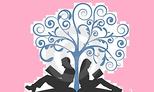 From the cover, synopsis, and title, How Sweet It Is is simply brimming with cuteness. As soon as I saw this novel, I was sure that it was the book for me.

Kate Sweet runs an event planning business that specializes in happily ever afters. When her best friend asks her to organize a book launch for a famous horror author, she's a bit uncertain that she's the right person for the job, but Kate is nothing if not dedicated to her job as a planning, creating, scheduling maven. This could be the opportunity of a lifetime for her to branch out and get noticed in her industry.

What could go wrong does go wrong when Kate meets Drake, the Knight of Nightmares. Their meet-cute moment is more of a disaster. What ensues is a story that is filled with mishaps, hijinks, and misunderstandings. Throughout all of their bumbling interactions, there is an attraction that develops between the two main characters, and as their work relationship progresses, Drake is certain that he's found his muse for his latest writing project.

How Sweet It Is was just as the title predicted, it was sweet. It should have been just what I was looking for. It had all of the key elements that I usually enjoy, but for whatever reason, I had a difficult time connecting with the characters. I wanted nothing more than to become immersed in the story and their developing relationship, but whenever I fail to connect with the characters in a novel, the story just seems to fall flat. I hate that I didn't love it, but I'm sure that many readers will.



*3 Stars