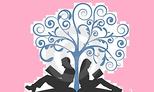 It's no secret that I am always looking forward to reading a new book by Colleen Hoover. Regretting You was like getting two stories for the price of one: the mother's and her daughter's. I was hooked!

When I began Regretting You, I was all in. It captured me right from the beginning and I was more than a little interested in seeing where the story was going to go. Everything was moving along at a quick and entertaining pace and then she threw in a twist, a real humdinger that had me gasping out loud. Oh, yes, I was invested.

Hoover didn't hold back. She wrote a story that delved deep into family life, with a mother and daughter at odds, and trying to come to terms with a devastating event. It was emotional, raw, honest, and real. What I appreciated most about the novel was how the author didn't sugar coat the events that transpired. She went with them, stayed true to them, and took her readers on a heartfelt, turbulent ride. But don't worry, if it's a love story that you're looking for, she delivers a double dose of romance that will surely capture your heart.

Regretting You is filled with creativity and superb writing. It will invest you, shock you, and ultimately give you what you've come to expect from a book by Colleen Hoover.





*4.5 Stars