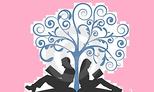 Tilly in Technicolor was an absolutely delightful read! I was pretty sure that I was going to enjoy this novel, but my goodness, I was completely enamored with these characters. Mazey Eddings has written a wonderful novel with neurodiverse characters. It was impossible not to love Tilly and Oliver.

Right from their first interaction on their flight from Cleveland to London, I was hooked on this duo. We all know that flying the friendly (or rather unfriendly) skies can be challenging for most of us, and sitting crammed in a plane, hearing all of the different noises, and having to put up with your fellow passengers is not the best start to any vacation, but for Tilly and Oliver, it was definitely a challenge. Their flight was filled with mishaps and issues, and they might not have started off on the best foot, but as luck would have it, they would have the whole summer to get to know one another. It was definitely lucky for the readers because this pair was golden!

Tilly needs a change and a break from her domineering mother. She is finally getting out from under her mother's watchful eye and heading to London, but it's not supposed to be all fun and games. She is supposed to be working as an intern for her uber-successful sister's new company. She is also supposed to be planning for her future. For Tilly, she's just excited to be in Europe: exploring, writing, soaking up the sights, eating the food, and reconnecting with her sister.

Oliver has a solid plan for his life. He knows what he loves, wants, and is going to be heading to university in the fall to make it all happen. Working for Tilly's sister's company has given him some good experience, and his knowledge has definitely been a positive for the company, too.

While Tilly and Oliver were opposites, they did understand what the other had to go through in daily life. I enjoyed seeing their relationship develop and grow. They wanted to just be themselves and be accepted as they are, and I wanted that for them, too.

Tilly in Technicolor was a wonderful read. I felt a whole array of emotions. This was a novel that made me laugh, cry, and just made me feel so much.



*5 Stars