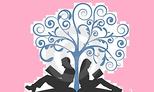 This book stole my heart. You Were There Too is a tricky novel for me to review. What can I possibly say about this book that will express everything that I'm feeling and do it the justice that it deserves? I think that I'm simply going to tiptoe lightly so that I don't spoil it for any other readers. It is better to experience it for yourself, live though it all with the characters, and let the author take you on this emotional journey.

Let me start off by saying that any book that begins with a quote from The Wizard of Oz already has my interest. After reading a couple chapters I knew that it was going to be one special read. I adore books that deal with married couples and the issues that many of them face. Everyone knows that marriage isn't easy. It's a lot of work, but with the right partner the effort is worth every struggle, hardship, and heartache that may be encountered. Mia and Harrison's life may have looked ideal to any outsider looking in, but their life together wasn't without its own struggles.

After moving to Hope Springs from Philadelphia in search of a change and a quieter, more laid-back life, Mia comes face to face with the man that she has been dreaming about for years. As shocking as that was, she was even more shocked to discover that he had been dreaming about her too. Mia develops a bit of a curious relationship with Oliver, the man from her dreams, and they attempt to discover what their dreams mean and what their connection is.

Okay, this is where my mind started to conjure up all sorts of different scenarios for these characters. What was Mia and Oliver's connection? Is this a case of past lives? Was it fate? Were we dealing with a love triangle? There was one time where I actually thought that I had it all figured out and was certain that I knew what this story's outcome would be. Silly me. I had no clue! To be honest, I am glad that I didn't have it all sorted out. I always enjoy getting the rug pulled out from under me and taken in a completely different direction than where I had initially thought it was all heading.

I was invested in these characters right from the beginning of this book. The book is told mostly from Mia's perspective, but we do get a few chapters from other characters as well. This made my mind race with possibilities. I was more than a little curious about what these other characters meant in the bigger picture for Mia, Harrison, and Oliver. I wholly believed in Mia and Harrison's relationship and their love for one another, but was their something more to it all?

As I mentioned at the beginning, this novel stole my heart, but it also ran away with it, brought it back, healed it and had it beating again. The emotions in this book were palpable, making me feel all of the butterflies, anxiety, and gut-wrenching pain with every turn of the page.

You Were There Too is an emotional, satisfying, thought-provoking read that makes you ponder the what ifs in life while still keeping true to the real, honest, normal feelings that couples have and share.

I am already looking forward to reading more books by Colleen Oakley, and her other novels have already been downloaded on my Kindle.



*5 Stars