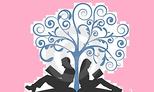 ​​This book had me at the title! But this is Jewel E. Ann, so I knew that there would be meaning behind such a cheeky book title. I do love a forbidden romance, and I realized that it had been far too long since I'd read one.

The first aspect that I enjoyed was that it was entirely from the female protagonist's point of view. I like dual perspectives at times, but if I'm being completely honest, I want to be in the female's head, wondering, worrying, and seeing everything play out from her perspective and, of course, feeling the rush of falling in love.

Reese is eighteen years old. She's encountered her share of loss in her young life, but she's found solace in the church and in her strong religious beliefs. When she moves to Colorado to be reunited with her mother, she is also introduced to her new landlord and boss. Fisher Mann (yep, that's his name) is well established for a twenty-eight-year-old. He owns his own home, he has his own construction company, and he has had his share of female companionship. Reese and Fisher seem like polar opposites. While she is young, naïve, inexperienced, and has lived a somewhat sheltered life, Fisher is a dirty talking, cussing, experienced man who loves nothing more than to make Reese blush.

Reese feels things that she's never felt before when Fisher is near her. She knows that she shouldn't be lusting after this older man, but his flirting (and his tendency to be shirtless) seem to make her go weak in the knees. Being around him, she is constantly battling with her conscience and her beliefs of what is right and wrong in God's eyes.

I had many feelings go through me while I was reading this novel. I enjoyed the whole will they/won't they aspect of the book, the anticipation, the fear of what would happen if anyone were to find out about their attraction, and the back and forth between them. They had that attraction that pulled them together, but then their common sense would push them apart. I thinks that's one of the things that I liked best about The Naked Fisherman, I never really felt comfortable or trusted their relationship or what the outcome would be. I loved the angst, the butterflies, the fraught nerves, and the anticipation that Jewel E. Ann built throughout this steamy read.

I will definitely be reading the conclusion of their story in The Lost Fisherman.



*4 Stars