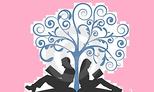 ​

​As a reader who is drawn to novels about forbidden relationships, Corinne certainly grabbed my attention. Complicated relationships prevailed in this book, and I was intrigued right from the start.

The book takes place over the span of fifteen years. We meet Corinne as a teenager. Her family has hit some hard times. She and her mother and siblings are living with Enoch Miller's family. The Millers are loyal members of the fundamentalist church in their hometown. Corinne has always existed on the sidelines of the congregation. She has never fit in and been completely accepted. Corinne's relationship with the church is not as steadfast as her mother's or the Millers'. While she attends church with her family, she is more interested in Enoch Miller. It was always Enoch Miller.

The church's strict rules meant that she was supposed to quash her feelings and desires, but temptation is powerful, and sometimes it proves to be too much to resist. Unfortunately for Corinne, the repercussions for her actions were far greater.

When we see Corinne years later, she is university educated, has a good career, and wants to try to repair the damaged relationship with her mother and siblings. Corinne wants to be back in her family's good graces, but she doesn't want to be part of the church, and she is still considered an outcast for her "worldly," secular lifestyle. Enoch Miller is also still a fixture in his hometown and church. And while Corinne has tried to forget about him, he still holds a place in her heart. It was always Enoch Miller.

Rebecca Morrow has written an intriguing book. While the dialogue was simplistic between the two main characters, their relationship was anything but. It was messy, complicated, and laden with desire, not only for one another but to do the right thing. This was a perfect example of the heart wants what the heart wants.

I enjoyed my time reading Corinne. It was well written, thought provoking, and it made me feel a plethora of emotions. Did I want Corinne and Enoch to be together? At times, yes, and at other times, no. But I always wanted Corinne to find her own sense of peace, happiness, and acceptance.



*4 Stars