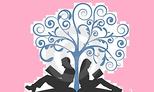 I love a good meet-cute. Give me an interesting, different way for a couple to meet and I'm instantly intrigued, however, unfortunately for Franny and Hayes, their meet-cute was more of a meet-disaster.

Franny Doyle was having a bad day. She was laid off from her job, she was worried about paying her bills, and the subway doors ripped the back of her silk dress, exposing her to the other inhabitants of New York City. Luckily, Hayes Montgomery III was riding on Franny's subway, and he stepped in to offer her his suit jacket. Chivalry is not dead! But their little exchange wasn't just between them, oh, no, another passenger posted the whole encounter online and it went viral.

What were the chances that Franny and Hayes would ever run into each other again? Turns out, the chances were pretty good. While the city was rooting for them to be in a real relationship, their follow-up encounter turned out to be just as cringeworthy.

In a New York Minute had a great cast of characters. I was instantly invested in Franny and her close friends. Franny and Hayes had chemistry, but they had a bit of an opposites-attract thing going on. She was creative and bubbly, while Hayes was serious, buttoned-up, and all about work. But what I really liked about Hayes that set him apart was that despite his serious side and pompous name, his swagger was reserved for the office only. He wasn't as confident and self-assured in his romantic life. There was an insecure, kind, and vulnerable man under those expensive garments.

This novel is not your average girl meets boy, they fall in love, and everything is just hunky-dory. Where would the fun be in that? They had their share of ups and down, theirs was a slow-burning romance that kept this reader anxiously waiting for their time to come. With a couple who met in the most meet-cute/ugly way, why would I expect everything to be smooth and easy for them.

In a New York Minute was a fun novel that was filled with plenty of mishaps, romance, and a setting that just can't be beat!





*4 Stars