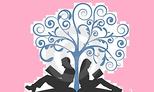 Our Life in a Day was a unique, refreshing love story. I may be in the minority, but I'm not the type of reader who needs the happily ever after in fiction. I am always drawn to books that have the ability to pull the good, the bad, and the ugly from real life and provide a realistic, honest view of a relationship.

I was invested in Tom and Esme's relationship right from the very beginning of the book. I wanted to discover the pivotal moments of their relationship, not just the good times, but the obstacles and blips. Their relationship did have its share of happy, loving times, but it also had its share of secrets, pain, and shame. Tom and Esme weren't a perfect couple. They were, however, perfectly normal in their portrayal – they were flawed. The author didn't take the characters on the smooth path, he made them take the bumpy journey, and I, for one, was happy to go right along with them for the ride.

Fewery did a great job of creating the characters. Tom and Esme had their quirks, but were likable. There may have been a few times where I wanted to shake some sense into Tom, yell at him to come clean with Esme, but that only built up my fervor to continue reading the book. A book that doesn't elicit a reaction from its reader is just gathering dust on a bedside table or shelf somewhere. No worries…or dust here.

Our Life in a Day was a compelling read. It was filled with plenty of emotion and heart. I will be on the lookout for more books by Jamie Fewery.



*4 Stars