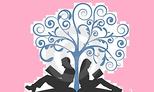 ​There's no denying that whenever this writing duo has a new book coming out, it goes to the top of my must-read list. When I need a book to make me smile, laugh, or just to feel good, their books hit the mark. When it was mentioned that this book was going to be a bit different from their previous work, my curiosity was piqued. While they are known for their witty characters and laugh-out-loud banter, I was intrigued to go on a different journey and see a new side to this fab duo.

The book starts out when Tate is eighteen years old and on a trip to London with her grandmother. She meets Sam and his grandfather, and she embarks on a two-week fling with Sam in which they both open up and divulge very personal pieces of themselves. When Tate's biggest secret gets revealed publicly, she knows that the only person who could've betrayed her trust is the same person she gave her heart to.

Fourteen years later, Tate is an actress with the starring role in a film that could send her career soaring. Sam is the last person that she expects to see on the set, but there he is, bringing back all of those old feelings of resentment, betrayal and, much to her chagrin, love. But how could she still feel anything but the sting of betrayal toward Sam? Well, this novel is one that makes you question your own scruples. Is it possible to do the wrong thing for the right reason? What would you do for love? Could you sacrifice one person's feelings for another's? My mind kept circling around these questions and what I would do if I was faced with a similar situation.

Twice in a Blue Moon should have checked off all of my boxes. It should have pulled me in and held me captive until the final page. In all honesty, it had everything that I normally look for in a novel, but for whatever reason I didn't feel a connection to the characters. I wanted to fall in love with this story and these characters. It was a good story with solid writing and an interesting concept, but when I don't feel something for the characters, it tends to fall short for me. With that being said, as soon Christina Lauren's next book is announced, it will be finding a place at the top of my to-be-read list.





*3.5 Stars