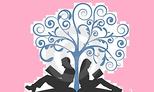 The Arc is a witty, clever novel about the lengths that some people will go to in order to find their soulmates.

This novel just reconfirmed my relief of being long out of the dating scene. The Arc is a dating service that requires a one-week stay and a multitude of scientific tests and behavioral studies in order to find your ideal match. This service is not for your average swipe left or swipe right dater. Oh, no, you have to be willing to part with a big chunk of change in order to find your one true love.

Ursula is an odd character, but I say that with great appreciation. She walks to the beat of her own drum, she overthinks everything, she self-sabotages, she has a love-hate relationship with her job, and she sings songs to her cat. Yep, she had me at cat songs. I mean, we all sing made-up songs to our pets, right? I could record an album. Anyway, she wanted to find her perfect match, and when this opportunity presented itself, she went for it, after all, it was guaranteed to work. Money well spent.

When Ursula gets matched with Raphael, she truly believes that The Arc is everything that it promised to be. They enjoy each other's company, he seems to like and appreciate her quirkiness, and their attraction is off the charts. I wanted to believe in their relationship. Mm hmm…But at this point I was just waiting for the other shoe to drop.

Tory Henwood Hoen takes the dating world and turns it on its head. This is an over-the-top story about finding your ideal partner. I never really felt as though I had to take it too seriously. I was just having fun being a part of Ursula's world for a little while, experiencing all of her highs and all of her lows (and she had her share). I enjoyed the eccentricity of the characters, the humor, the mysterious nature of The Arc, and the big question of whether it's possible to find your perfect match.



*4 Stars