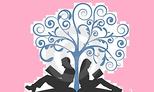 Whenever I see that Christina Lauren have a new book coming out, it automatically gets added to my list of must-read books. I've come to the conclusion that they have some magical ability to always put a smile on my face. Of course, that magical ability is all talent. No matter my mood, their writing is an elixir that never fails to have me laughing out loud.

Can you imagine spending ten days with someone that you don't get along with? What if those ten days were in Hawaii… and it was free? That certainly sweetens the pot, doesn't it? This is the situation that Olive Torres finds herself in. After some bad seafood at her twin sister's wedding reception leaves everyone sick, including the bride and groom, Ami insists that Olive not let the honeymoon go to waste. All she has to do is pretend that she's Ami and she will get to spend ten luxurious days in paradise. The only problem is that Ethan Thomas, the best man and groom's brother, is the only other person who wasn't afflicted by the tainted buffet food, so it makes perfect sense that he accompanies Olive on the honeymoon and pretend that they are the loving newlyweds. It's not easy to act like newlyweds, though, when they can barely stand being in the same room together. This whole scenario presented some fabulous drama, wit, and interesting situations and interactions.

Olive and Ethan had a long history of disliking each other. Right from the get-go, the tension was in full force with these two. Ethan's first mistake was giving Olive a judgmental look just because she wanted to chow down on cheese curds at the State Fair. But what I liked about Olive was that she owned her curves and was unapologetic about enjoying food. Yes!

Sharing a suite at a resort meant that they would be spending a lot of time together. The more time they spent together, the more this "couple" realized that they actually enjoyed each other's company. I liked watching their relationship progress, how they maneuvered around each other and truly got to know each other beyond their own assumptions.

The Unhoneymooners is a fun-filled, fast-paced enemies-to-lovers romance that provided a great deal of witty banter. Olive and Ethan's back and forth was everything that you would want from an enemies-to-lovers romance. It had all of the hilarity, chemistry, and even a touch of angst to even things out and get the blood pumping. The authors never rushed the romance along, they allowed the characters to circle each other organically, which is something that I always appreciate in a novel.

This book is just another example of why this writing duo is among my list of all-time favorites!





*4.5 Stars