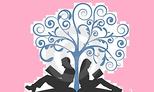 ​​​​After reading The Last Goodbye by Fiona Lucas, I couldn't wait to get my hands on this book. Don't let the cute cover fool you, this book is emotional and packs a punch.

There is something about serendipitous meetings between two people that always seems to catch my attention. Ben and Lili met by chance in a secluded garden in London, but they were drawn to one another immediately, and what started as a chance encounter turned into them spending the day and night together and promising to meet again on the same date the following year. A lot can transpire in a year, and one of them doesn't turn up at the garden.

The novel goes back and forth between the present and the past. This worked perfectly for this book. I wanted to know what had happened to these characters, who didn't show up, and what was their reason. Of course, there's also the question of the woman who shows up five years later in Ben's hometown in Scotland. Who is she?

I am trying to tiptoe lightly through this review, because I don't want to give any morsel of the story away. It's so much better when you get to experience it all firsthand. Trust me.

Never Forget You captivated me very early on and didn't let me go until the final page was read. It was heartbreaking and disturbing, but also hopeful and romantic. I was quickly enthralled with the characters and couldn't wait to find out what became of them. I'm already looking forward to the next novel by Fiona Lucas.



*4.5 Stars