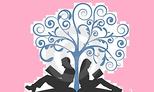 ​​​​No reader wants to be headed in the dreaded direction of a reading slump, but that was where I was headed. After starting and setting aside a few books, I felt defeated. I wanted and needed that sure thing to catapult me out of the doldrums that I found myself in. I'm a particular reader, and I will often save certain books for just the right time, this book included. This was the right time. Love and Other Words was exactly what I needed. In all honesty, I couldn't have asked for anything more.

Everything about this novel spoke to me. It made me feel so much, and it especially made me feel like reading again. I didn't just want to sit down and read a couple of chapters, I wanted to inhale every single word from start to finish. The story, the characters, the setting, the emotions, it pulled me in and didn't let me go. When I wasn't reading it, I was thinking about Macy and Elliot.

This is a friends-to-lovers story unlike any other. It's also so much more than that. It deals with loss, grief, moving forward and, of course, first loves. This writing duo is renowned for making me laugh out loud with their hilarious banter and romantic romps, but this book is deeper, and proves that they can write the heck out of anything.

The chapters alternated between the present day and the past. It's all from Macy's perspective, and for me, that was perfect. I experienced everything with her: the highs and lows, the sensation of young love, the devastation of loss and the grief that follows.

Macy and Elliot met when her father bought a cabin next door to Elliot's large, boisterous family. Even though Macy only went to the cabin on certain weekends and during the summer, she and Elliot bonded over their mutual love of books. Their relationship/friendship quickly developed, and over the years, as they grew, so did their feelings for one another. But Macy was always worried about ruining their friendship if they were to become boyfriend and girlfriend. Elliot was her person, her everything, and she was afraid of losing someone that she felt so at home and in tune with.

While I was reading this book, I was waiting for the reveal, the reason why Macy and Elliot lost touch. The back and forth between the past and the present was the ideal way to bring it all together. I sat there on pins and needles, wanting to know everything, but also filled with nerves and anxiety as to what awaited me. It was angst-filled, romantic, heartbreaking, and hopeful, all at the same time. My heart couldn't have felt more.

Love and Other Words is why I read. I completely and happily lost myself in the characters' lives and their story. I couldn't have loved this book any more than I did.



*5+ Stars