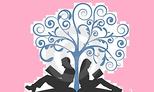 ​I can always count on Sophie Kinsella's books to put a smile on my face. Love Your Life was just another example of why I enjoy her novels. It was lighthearted, fun, witty, and had a great cast of characters that kept me entertained.

One of the elements that I always appreciate is this author's ability to create interesting, quirky characters. They are always characters that I am able to connect with on some level. Yes, their antics and personalities are sometimes over the top, but they are there to entertain us, bring some levity to our own lives and, honestly, who couldn't use a good laugh these days? But most of all, the characters are likable and have me cheering them on, wanting them to get their happily ever after. All of the characters are wonderful. The secondary characters are equally as entertaining and likable, and I felt as though I could see myself having a glass of wine and chatting with them, too.

Ava is a bubbly, positive, dog-loving woman. She has eclectic taste, and her personality is as bright as her wardrobe and design choices. She has ambition, however, with her propensity for finding new interests and hobbies, her attention is sometimes pulled in different directions. She's a romantic at heart who believes that it is completely possible to find a connection with someone authentically, apps not required. Did I mention that she loves dogs? Her true love is Harold, her precocious Beagle, who in her eyes does no wrong. Oh, but in everyone else's eyes, he certainly does!

When Ava meets Matt at a writing retreat in Italy, they actually meet as Aria and Dutch. Since this retreat requires them to focus on writing and not getting distracted by getting overly acquainted with their fellow classmates, they not only have pseudonyms, but they are not allowed to discuss their real lives. This set up works out well for Aria and Dutch. Their attraction is strong, and they get along famously in their little romantic bubble, however, when they return to London with their actual names and real lives, things aren't quite as easy. Their differences are plentiful, and their compatibility is not as clear cut. Were they too different to last long term? I certainly wanted to find out.

As always, Kinsella delivers a story that is full of heart, hijinks, mishaps, and plenty of humor. There is never a dull moment in this novel. I was invested in the story and the characters from the first page until the last.

I enjoyed Ava's growth within this story. She had preconceived notions about falling in love and finding her proper match, but she realized that she had to be content and comfortable with her own life without needing to change or have her partner change to suit her. Ava loved her life and her quirks. But if I had to guess, I would still say that she loved Harold the most.

I'm already looking forward to the next book by Sophie Kinsella.



*4 Stars