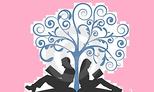 ​Whenever Mhairi McFarlane has a new book coming out, it is at the top of my to-be-read list.

Between Us is a story of friendships, betrayals, family relationships, and love. I always try to put myself in the main character's shoes when I read a book, and it wasn't very difficult to see and feel what was going on from Roisin's perspective. How would you feel if you had confided something very personal to the person you were in love with, only for them to use it in their brand-new television show? Oh, and he never asked you first. He just let you watch it as you sat there with your closest group of friends. Yes, I felt the pain and the sting of betrayal. Things hadn't been going all that well in Roisin and Joe's relationship over the past year, but watching his television show made her question a lot about their ten-year relationship.

I loved how McFarlane created her characters and this group of friends. They had all met back in their twenties when they worked at a bookstore. While they were all living their own lives, they still got together to celebrate special occasions, to reminisce, and just enjoy each other's company. Their latest weekend getaway, however, brought some hard feelings to light. As a child of the '80s, I must say that I felt a St. Elmo's Fire vibe with the friendships, and I loved it! Throw in the songs that played on the jukebox in Roisin's mother's pub, and I was humming along to a bit of Simple Minds and Spandau Ballet.

Between Us was a wonderful story about the complexities of relationships: familial, friendship, and romantic. I was quickly invested in the characters' lives, and I was torn between wanting to know what was going to happen and wanting to just live within the pages for a while longer.

McFarlane never fails to deliver a well-rounded novel that is filled with humor, emotion, angst, and romance. I am already looking forward to reading her next novel!



*4.5 Stars