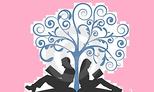 I have been a fan of this series since the very beginning. If you haven't read the first two books, no worries, Bad for You can easily be read on its own. When I found out that J. Daniels was going to be returning to Dogwood Beach with Stitch and Shayla's story, well, let's just say that I was over the moon. This is the book that I've been waiting for. I was introduced to Stitch and Shayla in Four Letter Word (Dirty Deeds #1), and my curiosity about them was already piqued. I couldn't wait to finally find out about the brooding Sean "Stitch" Molina, and J. Daniels did not disappoint!

I adore these characters. I love them, plain and simple. The book is told in alternating chapters from Shayla's and Sean's perspectives. This allows the reader to get a true understanding of what's going on in their heads. Sean is a character who we really knew very little about, and getting chapters from his perspective gave me a better insight into his past and how it shaped the man that he is.

There is something rather appealing and intriguing about a man of few words, and Sean is definitely a man of few words. Unlike the rest of the staff at Whitecaps, he isn't one to schmooze and make idle chit-chat on breaks or between shifts. He goes to work, completes his shift, and goes home. None of his co-workers really know the man behind the apron.

Shayla is such a little spitfire and sweetheart. She is a talkative, funny, loyal, helpful, caring human being. Everyone needs a friend like Shayla. With her ability to talk someone's ear off and her spunky attitude, one might assume that she would get on the nerves of a quiet, bordering on unfriendly kind of guy like Sean, but opposites do attract, and these two have an understated chemistry that is just simmering under the surface.

If you are a fan of slow burning romances, this one will hit all of the marks. J. Daniels has written a slow burning romance that has a perfect pace, she builds up the tension and anticipation, keeping her readers anxiously flipping the pages to witness the love story unfold. It was an absolute pleasure that was well worth the wait. I wouldn't have expected Sean and Shayla's relationship to happen overnight. I didn't want it that way. Their relationship needed the proper time to develop. J. Daniels took her time to give Shayla and Sean the most authentic story. It couldn't have been better.

For fans of contemporary romance, this book has it all. I spent the majority of my time smiling, laughing, aching, tearing up, and just getting completely caught up in this fantastic love story. Bad for You is a well-rounded romance that is filled with everything that makes for a great read. I have enjoyed all of the books in this series, but this one has to be my absolute favorite. In my opinion, it was perfect.





*5 Stars



​