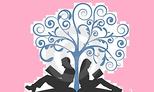 I say this every time I review one of Colleen Hoover's books, but I'll say it again, she is a must-read author for me. Whenever I find out that she has a new book coming out, it immediately has a home on my to-be-read list. Without Merit is a bit different from what I have read by her in the past, but it still has all of her signature wit, clever writing, and is, of course, full of heart.

Without Merit is filled with unique and endearing characters. Brimming with them. While she always creates memorable and unique characters that are quirky and utterly charming, there is always a relatability factor with them. As a reader, I don't have to have experienced the same scenario or life event as them, but there is a familiarity, a likability, and a little spark in them that I recognize.

The Voss family is just about as unique and unexpected as you can get. Their family dynamic is unlike anything that I have read about before. We've probably all had those moments growing up when we thought our own families were completely messed up and dysfunctional. As I mentioned above, her books are relatable and geared to strike a chord with her readers.

I found that this book had many life lessons within its pages. It also dealt with many socially relevant topics. Within the Voss household, she managed to touch on many issues that affect youth and families today.

I don't want to get into all of the details of the story, you're always better to just go into her books and witness the story unfold firsthand. There are so many spots where I laughed out loud, my heart ached, and I felt the story in the pit of my stomach. Without Merit is a good story with a good message. There are so many passages that are memorable. This book could easily be enjoyed by an adult or a teenager. And, yes, there is a sweet love story that goes along with it.





*4 Stars