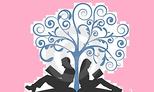 "Don't think. Just dive in! You can't prepare for greatness- it just has to happen."

That's exactly what I should've done with this book. This book was sitting on my Kindle for far too long. What was I waiting for? Well, I have a selection of books that I reserve for times when I need that little something extra, something special. So many of my fellow readers adored this book. I knew that it had to be a winner, so I saved it for just the right time.

This is the fourth book that I've read by Jewel E. Ann so far this year. She is definitely on my list of must-read authors. When Life Happened had so much going for it. It had realistic, quirky characters, angst, romance, and it certainly delivered on that "something extra" that I was looking for. What you see isn't always what you get with this author. She has so many layers to her stories, so many gems that need to be uncovered. Every time I read one of her books, I find myself shaking my head and wondering how she comes up with these incredible storylines and characters. Talent, my friends, true talent.

When life happens, it often happens in the blink of an eye, it can completely take you off course and change your direction, for better or for worse, life just happens for whatever reason it is meant to. When Life Happened was the perfect title for this book. Parker had experienced her share of ups and downs, and she was trying to get her life back in order. I loved Parker. She wasn't perfect, she held grudges, and her emotions were justified and normal. I liked her from the get-go and was in her corner until the final page.

It is difficult to get into too many details about this story without giving too much away. Trust me, you want to just go into this one without too much information. I was comfortable, in my reading zone, enjoying all of the witty banter, chemistry, and clever writing that this book had to offer…and then… BAM! I had to stop reading, go back a few pages to reread them, put my Kindle down, and take a deep breath.

There were so many things about this book that I loved, but if I had to say what made this a four instead of a five-star read for me, it would be the more rushed aspects of the romance. I loved being with these characters, but I wanted more time to watch them fall instead of seeing them hit the ground running. But then again, when life happens, it just happens.





*4 Stars