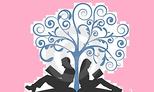 I have a confession…I never read the Sisterhood series. This was my first book by Ann Brashares. I didn't go into it with any preconceived ideas, my only expectation was for an interesting read that would take me into the lives of the characters. It did just that.

The Whole Thing Together is essentially a family drama. I was glad to have the page that listed the Thomas - Harrison family names and their connections. During the first few chapters I found myself going back to this page quite a bit in order to acquaint myself with the characters.

The book revolves around a summer house where the two families spend alternating weeks. The family dynamics are not neat and tidy - they are complicated, messy, and emotional. Lila and Robert are divorced, but they have three daughters together: Emma, Quinn, and Mattie. Lila remarried and has one son, Ray, with her current husband. Robert also remarried and has one daughter, Sasha, with his current wife. The only children who are not biologically related to each other are Ray and Sasha. They share half-sisters, they know things about each other and their parents, but have never actually met. They have spent their summers not only sharing a bedroom in the beloved summer house, but also toys, books, and furnishings. They feel as though they know each other, that they have a connection, even though they have been kept apart for their entire lives.

To say that Lila and Robert didn't split amicably would be a big understatement. Their hostility and hard feelings toward each other has had an effect on their children. Even after all of these years apart, their animosity has not lessened. It's still a barricade that is dividing the families. Wouldn't life be easier if the adults could just behave like adults?

In The Whole Thing Together, we get a glimpse into the lives of the characters. We get to see their personalities, how they interact, and how their family life has shaped them. Each of the children, although they aren't children anymore, are trying to find their place in the world, where they fit in and belong. Their families couldn't be more different. Lila is a free-spirited hippie. Robert is a workaholic businessman who wants his children to be Ivy League scholars. In their own way, each of the kids still want to please their parents and not make waves in the family.

It took me a little while to get completely invested in this story, but once I did I wanted to find out what was going to become of the characters. With any book, there are certain characters that I tend to like and feel for more than others. This book was no exception. While each of the parents loved their children, I couldn't help but shake my head at their behavior. But this is a fictional story, and I'm fairly confident that it wasn't meant to be an easy, jubilant love-fest. Family life isn't always easy, and in this family things were definitely strained and somewhat awkward.

The Whole Thing Together was an interesting story. Above all, it's a story about family, belonging, choices, and love. It does deal with some issues that may be uncomfortable for some readers. After reading the final chapter, all I wanted to do was give my husband and son a big hug, tell them I love them, and count my blessings.





*4 Stars