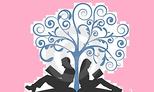 S.L. Jennings had me at the synopsis. What a unique, refreshing, intriguing storyline!

Rhys is a popular romance author who writes under the pen name of Hope Hughes. He is obviously not a woman, nor does he believe the words which he spews out in the pages of his books. He is a cynical, whiskey drinking, solitary man who enjoys the companionship of various women, but does not hold out for any kind of long term romantic relationship – to him, they're only the pipe dreams of the readers of his romance novels, including his best friend, Fiona.

Rhys and Fiona have been best friends for ten years. Their friendship began over a shared love of literature, and since then, they have been inseparable. While Rhys writes the romantic fantasies that people want to read, Fiona actually wants to live them. She is an unapologetic romantic who longs to find her one true love.

Ink & Lies is a friends-to-lovers story that is different from any that I've read in the past. I loved the friendship that Rhys and Fiona had. For the most part, it was easy, comfortable, and routine. They knew each other better than anyone else, they found comfort being in the other's company, and for the most part, they were simply in-tune with each other. With compatibility like theirs, it should've been a pretty clear-cut love story, right? It was anything but.

When I first began reading Ink & Lies, I had it pegged for a romantic comedy, but as I kept reading, my angst-loving heart was in heaven. There was nothing easy or instant about this friends-to-lovers romance. While Fiona was searching for her modern day version of Prince Charming, Rhys was adamant that her ideals just didn't exist, although, for her, he wished that he could make them come true.

"Fiona, you've searched your whole life for the perfect book boyfriend. Passionate, alluring, aloof, mysterious…you looked for him in every guy you've ever dated, only to be disappointed. They weren't Mr. Darcy. They weren't Heathcliff or Howard Roark. Hell, they weren't even Grey. They never measured up to what you deemed perfection, because those men didn't exist. Therefore you had given up on your HEA – your happily ever after- and settled for some semblance of true happiness."

With any friends-to-lovers novel, the anticipation is built while the reader is waiting for the characters to finally admit or realize their true feelings for each other, and this book really kept the tension taut throughout the book. Their journey wasn't without its share of heartache and poor decisions, and I found myself sitting on pins and needles during the last few chapters just waiting to see how it all would end.

Ink & Lies is a unique, well written story. Filled with angst, humor, heart, and a great cast of characters, it kept me entertained and flipping the pages from beginning to end.






*4.5 Stars