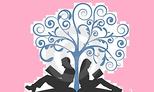 Angst lovers rejoice! There's nothing I enjoy more than a book that makes my heart beat faster, ties my stomach up in knots, and packs an emotional punch that leaves me reeling for days. Blind Kiss gave me exactly what I was looking for.

Penny and Gavin met as participants in a psychological study that Penny's friend was conducting. Penny and Gavin connected right from their first kiss, which also happened to be their first introduction. It didn't matter how uncomfortable and unnerving the study was, Penny and Gavin clicked in that moment. Right from the beginning, their spark was strong and shining bright. I was in their corner, rooting for them, cheering them on, hoping that they would just be in the moment and let themselves fall, but that would've been too easy, wouldn't it? Renée Carlino had other plans - plans that involved making her readers squirm, grip their e-readers, and tap their fingers in anxious frustration. Thank you, Ms. Carlino, it was all well worth it!

This book is about friendship, connections, and unbreakable bonds that neither time nor distance can fray. It's about two people who are as close as two people can be without taking that extra little step out of the friend zone. I'm a true believer that men and women can be best friends, but these two had more than just a mutual appreciation for each other. Their feelings went much deeper, however, once they decided to just be friends, life happened, choices were made, and decisions were lived with.

Blind Kiss is told from different points in Penny and Gavin's relationship. It goes back and forth from fourteen years ago to the more recent years and months. This allowed me to witness all of their pivotal moments, to see the time when their relationship developed, when it flourished, and even the times when it seemed to dim. It was fourteen years' worth of good times and bad, laughter and tears, heartache and love.

Blind Kiss is a fast-paced read that is impossible to put down. I was immediately invested in the characters' lives and was happily held captive until the very end. It is the best kind of slow burn. It makes your insides churn with anticipation, while keeping you frantically flipping the pages to see where the author is going to take you. And, oh, what a journey she takes you on. There was never a moment where I felt comfortable or secure in how I thought Penny and Gavin's story would end, but I will tell you this, it was worth every minute of the trip!



*5 Stars