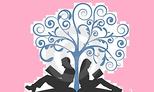 ​

​Oh, how I love a budding romance between a self-proclaimed a-hole and a sweet, well-mannered young woman. Throw that romance into an office setting and I'm sold! In my case, I enjoy watching a character evolve from the hard-nosed businessman to…well, a businessman with a sensitive side. I know that underneath the gruff, no-nonsense exterior there's a decent human being just aching to emerge.

Roman Cavenaugh has been trying to run his family's company to the best of his ability. Knowing that his father never thought that he was cut out for it has just made him work harder to fill his shoes. But Roman has cut himself off from his employees, earning a few harsh, but deserved workplace nicknames. He has isolated himself in his office in an attempt to be the man that his father never believed he was. His personal life is just as lonely, settling for meaningless trysts instead of trying to find a partner to share his life with. When his personal assistant leaves on maternity leave, Roman's world gets turned upside down with the introduction of his new temporary employee.

Cara Hamilton is a sweet, intelligent, loyal young woman who has moved to New York City to make a life with her long-time boyfriend, Tyler. While this move has always been in the cards for Cara, it's been a big adjustment for this small town girl from Nebraska. Not only is her new job not exactly what she had hoped for, but she's finding that life with Tyler was easier when it was long distance.

The chemistry between Roman and Cara was perfect. She was everything that he didn't know he wanted. This young, bright-eyed woman who came into his office space with her sweater dresses and clunky, scuffed heels made him feel something real for the first time. Despite his newfound feelings, Roman knew that he couldn't get involved with an employee, especially one who was already in a serious relationship…or could he?

J.L. Berg has created fantastic characters that I wanted to see succeed in life and love. It was the case of opposites attract that had me completely enthralled in their story. I wanted Roman to believe in himself, to allow himself to fall in love, and to realize that he was deserving.

Behind Closed Doors was filled with romance, intensity, and heart pounding moments that kept me swooning, smiling, and flipping the pages.





*4.5 Stars