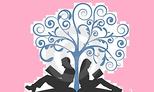 ​The final book in a series is always somewhat bittersweet. On the one hand, I couldn't wait to find out what was going to become of Danni, Cole, and Trace, but on the other hand, I was filled with nervous butterflies at what the possible outcome would be. This book is it. It's decision time. By the end of the book it was inevitable, someone would be left with a broken heart – I just hoped that it wouldn't be me.

This series captivated me from the very beginning and kept my interest until the final page of this book. I was completely invested in the story and characters. Normally when I read a book with a love triangle I have a favorite character, that one guy that I am rooting for, the man that I am hoping that the main character will ultimately choose, but in all honesty, I liked both men. I guess I had more in common with Danni than I thought! But that's the problem, who was she going to choose? She was in love with two men, how could she choose to spend her life with one and say goodbye to the other? I didn't envy Danni's decision.

"Seductive words, sexy dimples, arctic blue eyes, passion, and self-control…I fell in love with two men, went to war to keep them, and now it must end. Someone has to choose the break-up song and dance to the mournful melody, and that harrowing fate is meant for me."

Three is a War was a battle of emotions right to the very end. It was complicated, raw, and messy. Pam Godwin kept the tension high throughout the book's entirety, never allowing my pounding heart to settle down to an even rhythm. It's the angst, tension, and building anticipation that made this whole series so irresistible. I didn't know what was going to become of this threesome. I never really had an inkling as to which man Danni would finally choose. I was on pins and needles as I flipped the pages waiting to find out which man would be in Danni's future.

The Tangled Lies series may be a work of fiction, but I appreciated the realistic and honest emotions that Danni experienced. Putting myself in the character's shoes, I could see how torn she would be. Pam Godwin did a fantastic job of expressing the turmoil, pain, and heartbreak that Danni was going through. I felt everything right along with Danni, from the intensity of the love that she felt to her agonizing heartache.

Three is a War left me completely satisfied. It was everything that I've come to expect from a Pam Godwin novel. It was fast-paced, intense, sexy, and completely addictive.





*4.5 Stars