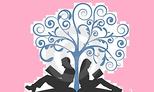 ​I've said it before and I'll say it again, Nina Lane can write romance! I was first introduced to Hannah and Evan in Sweet Dreams. If you haven't had a chance to read Sweet Dreams yet, don't despair, each of these books can be read as a stand-alone.

Hannah is keeping her word and staying in Rainsville to run Wild Child Bakery for her sister Polly. Hannah isn't accustomed to staying in one place for too long. Traveling around the world and blogging about love customs is how she earns her meager living, but traveling and discovering the world is her joie de vivre. Staying in Rainsville for six months while her sister studies in Paris may not be ideal for a young woman with a strong case of wanderlust, but after being gone for so many years, especially when their mother was dying, Hannah feels that it's the least she can do to help Polly.

The last thing that Hannah wants is to have ties to this small community. She's agreed to stay for six months, that's it. She isn't there to make friends or personal connections. She's there to help Polly and the bakery, then she's out of there to roam the world in search of new adventures.

Evan Stone has never lived an adventurous lifestyle. Being born with a heart defect, Evan has had his share of surgeries, hospital stays, and doctor's appointments. Trying to find his place in his family's candy company has been difficult. While he is more than capable, his family has always treated him with kid gloves, worrying over his health. Evan knows that his life, however long it is, will always be filled with restrictions and limitations, but he longs to live as normally as possible.

I loved Hannah and Evan's interactions in this book. Their chemistry was palpable. I wanted nothing more than for them to succumb to their attraction and give in to the possibilities. Hannah and Evan weren't looking for a relationship, and they certainly weren't looking for anything long-term, but when they agreed to spend some time together, their attraction grew exponentially.

Hannah and Evan may have lived completely opposite lifestyles, but it certainly didn't hinder the relationship that was developing between them. What started out as just a few dates was quickly turning into something more meaningful. From sharing pieces of information about themselves to sharing candy and desserts, their interactions were so endearing and heartwarming.

Sweet Escape had the perfect blend of everything that I enjoy in a contemporary romance. It was sweet, sexy, humorous, emotional, and romantic. Oh, it was so romantic! I could go on and on about every little detail that made my heart flutter, made me smile, and made me swoon, but I think that it should be read and experienced by each reader individually. Needless to say, I am looking forward to reading the next Stone brother's book. Which brother will it be? Who cares, I am so in! I'm already craving my next sugar fix!





*5 Stars