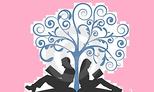 Wish You Were Mine is an emotional, heartfelt friends-to-lovers romance. With the sweet times that will melt your heart to the painful angst that will break it, Tara Sivec delivers a story that will ultimately move you.

I am always drawn to this trope, especially when the friendship between the characters begins in their childhood years. I love witnessing the relationship grow, change, and mature over time. While the story does focus primarily on the present day, the author gives her readers glimpses into the past, into the bond that developed between three children. It allows you to feel as though you know the characters, and see how important and special they are to each other. Though years, misunderstandings, and circumstances had separated these friends, their feelings never wavered.

As nice as it sounds to fall in love with your best friend, it also puts you in a difficult situation. What if those feelings are not reciprocated? What if your declaration of love makes things awkward between you? What if it ruins the friendship? It would be so much easier if people could just be completely honest with each other and come clean. But nothing in life and love is ever really easy. Cameron and Everett's situation was messy. Time and misunderstandings made it even more complicated.

The story is told in alternating chapters from Cameron and Everett's perspectives. I enjoyed the opportunity to see what each character was thinking and experiencing. It allowed me to see the story from both of their sides, to understand their reasons and motives.

Wish You Were Mine is filled with feeling. It's an intense story of regret, loss, guilt, and friendship. It made me root for the characters. I wanted nothing more than for them to find the courage to finally express what they had kept bottled up for years. Tara Sivec has written another novel that is sure to tug at the heartstrings of her readers. Oh, and there were a couple of little twists that added something special to the story.





*4 Stars