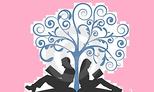 ​

​​What a great debut novel! I usually don't discuss the ending of a book at the beginning of my review, but I need to make an exception in this case because that ending was a jaw dropper! I honestly never saw that coming. Oh, I had some theories running through my mind while I was reading Undone, but that ending completely shocked me. I couldn't stop thinking about it.

Embry is back in her home state of New York to study for her law degree. After being away in Florida to earn her undergraduate degree, she feels ready to be back, ready to try and put her past behind her, ready to buckle down and work toward her dream. The only thing she has her sights set on is her career - love is not even a blip on her radar (mmhmm).

When Embry runs into a very handsome stranger, she can't help but be drawn to him. Luke is all southern drawl and easy charm. The chemistry between them is pretty high on the sizzle meter. Their relationship doesn't happen overnight. They don't jump into anything too quickly. Their attraction develops, their relationship forms slowly. I love it when an author takes their time to develop the characters and the story, and doesn't rush the romance aspect of the book. I appreciate a slow burning love story that builds over time and fills you with the anticipation of what's to come.

Embry isn't the only one trying to get over her past. Luke has a few secrets of his own that could have serious repercussions for him, Embry, their relationship, and their careers. Just when things seem to be working for Luke and Embry and you can almost hear the violins playing and the birds chirping, something happens, secrets are revealed which sends their relationship spiraling into the unknown. There is a lot of push and pull, back and forth in their relationship. It kept the butterflies and heart palpitations ever present while I was reading.

R.E. Hunter has written a deliciously addictive story with characters that I couldn't help but like. The story grabbed my attention at the very beginning and kept me glued to the pages until the end. Oh, don't even get me started on that ending again! I will just say that it has to be one of the best endings - EVER! It certainly left me wanting and needing more of Embry and Luke's story. Undone is a well written, angst filled story that I would highly recommend!



*5 Stars*