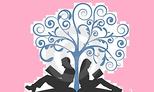 ​I was primarily drawn to this book because of its unique premise. A doctoral student who has been hurt by love is trying to prove that the lack of touch in a relationship is a sign that the relationship will not last. I found this to be such an intriguing concept for a romance novel – and it certainly did not disappoint.

Leah just moved to a new city to pursue her master's degree. Her life wasn't turning out the way she had originally envisioned. She was there by herself, instead of with her long-time boyfriend, Lyle. She was still reeling from the shock of their break-up and his declaration that he just didn't love her anymore (yeah, he's a real prize). Despite her broken heart, Leah is still a firm believer in true love and finding your soul mate.

When a flood in her apartment leaves her homeless, her charming neighbor Noah is there to offer her a place to crash while it's being renovated. Even though they had only recently met, they seemed to hit it off pretty quickly. When she ends up filling in unexpectedly for his assistant, things get very interesting between these two friends. While he's a firm believer that most relationships come to an end, she still wants to prove him wrong. It really was a refreshing approach to a romance book.

Their attraction to one another is undeniable, but she's fresh out of a relationship and he doesn't do the girlfriend thing anymore. As they live and work together, their relationship develops and grows into a lovely friendship. They look forward to seeing each other, to spending time together, and just doing what a normal couple would do. Except they're not a couple.

I enjoyed the chemistry and the flirtatious banter between Leah and Noah. It was entertaining to witness their relationship unfold over time while they were living together. There was never a dull moment in this book. It had plenty of romance, a dose of angst, and plenty of fun moments. This was a quick read that I devoured in one sitting. I am definitely looking forward to reading more by this author!



*4 Stars*​