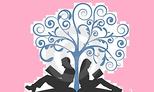 The Simple Wild was one of my most highly anticipated reads of the summer. What could be better than sitting back and letting K.A. Tucker's captivating storytelling transport you to the wilds of Alaska for a story of family, reconnecting, forgiveness, and love? This story didn't just meet my expectations, it surpassed them. This book had my undivided attention from the very beginning and took me on an incredible adventure that I'll never forget.

This book is the definition of a well-rounded novel. It had a little bit of everything that I enjoy when I'm reading. Between the story of a fractured relationship between a father and a daughter, the beautiful descriptive setting of the rugged Alaskan landscape, and the push and pull of an opposites attract romance, I was in my reading zone.

The Simple Wild is an emotional story that will undoubtedly tug at the heartstrings of its readers. I was immediately invested in the characters' lives, feeling all of their emotions and living their realities right along with them. K.A Tucker portrayed these characters in a genuine light, making their interactions and feelings as authentic and real as possible.

You can take the girl out of the city, but you can't take the city out of the girl. When Calla makes the decision to venture to Alaska to reconnect with her father, she's traveling into unfamiliar territory. The desolate location is just as unfamiliar to her as her father is. I loved Calla. She swallowed her pride and took the step to mend fences with her dad. I wanted her to have this opportunity and to make the most of it. It certainly wasn't an easy journey for Calla, and she had an antagonistic pilot who seemed to enjoy making her life that much more difficult.

Jonah and Calla didn't exactly hit it off from the start. He was rugged, outdoorsy, and lived a simple life, while she was accustomed to the perks and ease that city life afforded. Their back and forth, banter, and tension offered up the perfect amount of humor to offset the more emotional parts of this story. I do love an opposites attract novel, and this one was done just right. It is a slow burn that allows the reader's anticipation to build at the perfect pace.

The Simple Wild is a moving story that just hit all of the marks for me. It is a book that I can see myself rereading at a later time and still enjoying every single word as much as I did the first time.




*5 Stars