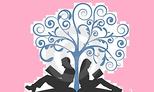 The Real is a unique, charming, sweet, slow burning romance. As soon as I began reading this novel I couldn't help but smile. The characters were endearing, quirky, and I found myself loving them from the very beginning. Give me an original love story and I am happy. From the way that Abbie and Cameron met, the coffeehouse that they communicated in, and the people that they surrounded themselves with, this story was just brimming with originality.

I spent a large portion of The Real just enjoying all of the interactions and humorous banter between the characters. It was just an overall fun, light, entertaining reading experience. I was completely comfortable with the characters and their story. Yes, they had an interesting relationship and, perhaps, an unconventional start, but I felt at ease, smitten with them and their blossoming relationship. Usually I'm more on edge, not believing that a romance can be smooth sailing, and always waiting for that other shoe to drop. I just went with the flow with this one. I just sat back and let the author work her magic. Boy, did she ever! So long light read, hello angst and emotional upheaval. My jaw dropped, my heart plummeted into my stomach, and to be quite frank, I was neck deep in angst.

The Real is exactly what the title implies. This book is real. The emotions and feelings were authentic and believable. I felt all of the highs and lows right along with Abbie and Cameron. I had been in their corner from the very beginning. I was invested in them, their relationship, and in their search for happiness.

I want to go into so much more detail than I have, but I truly don't want to spoil anything for any readers. The Real is a great contemporary romance that will warm your heart, make you laugh, tear you apart, and make you feel. Kate Stewart added her own special touch to this novel. It's not only real – it's relevant.





*4.5 Stars