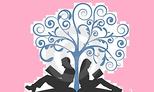 The Monday Girl was exactly as promised. It was a messy contemporary romance. In fact, it was messy, complicated, frustrating, infuriating, palpitation-inducing, swoony, and completely addictive. This was my first venture into the imaginative mind of Julie Johnson and, to be honest, I wasn't ready to leave. The Monday Girl is filled with humor, romantic chemistry, angst, and clever writing. Did I say that it had angst? It had it in spades. I was in my reading zone, my happy place, and my 'do not disturb' sign was up.

First of all, I would like to say that I looked forward to the beginning of each new chapter in this book. I loved the musings that began each chapter. As I mentioned up above, clever writing. For a book to work for me, it has to pique my interest early on and make me feel. The Monday Girl certainly made me feel. It pretty much put me through the emotional wringer.

It was easy to become completely immersed in Kat's life and story. She was jaded, opinionated, down on love, and down on her luck. She was a young actress who had lost any interest or hope of making it in the industry. The acting bug was basically thrust down her throat by an overbearing mother who was more of a business associate than mother. Oh, and her mother's three failed marriages may have contributed to Kat's less than shining views on love and marriage.

When Kat's luck begins to change and she gets the chance of a lifetime, no one could be more surprised than Kat. When Wyatt Hastings - a powerful, media mogul with Viking good looks - makes her an offer that she can't refuse, well, she just can't refuse it! When she finds out that her love interest in the movie is none other than the 'Sexiest Man Alive', she should be over the moon, but instead she's shocked and less than thrilled. He's not only the 'Sexiest Man Alive', but also someone who humiliated her and bruised her young ego long ago. A girl just doesn't forget that kind of stuff.

Grayson Dunn is a player. A ladies' man. A one and done kind of guy. He's everything that Kat would expect him to be, but as they get to know each other better, it's hard for her to deny that he's as dreamy as everyone thinks he is. Oh, she fights her feelings every step of the way. She knows better than anyone else what will happen. She doesn't want to succumb to his damn charms, but she's only human after all, and it doesn't matter how much she guards her heart, sometimes the old ticker just wins out…or does it?

I loved the tension that developed between these characters. It was palpable, intense, and made my own heart beat that little bit faster. The relationships that developed throughout the book kept my nerves on edge. I don't like insta-love, easy romances, love stories that are as sweet as lollipops and gum drops – and this is definitely not any of those things. Thank you, Julie Johnson!

The Monday Girl was a fast-paced book that swept me up into the lives of these characters. All throughout the book, I knew what I would like to see happen and what I wanted for Kat. I held my breath, crossed my fingers, and hoped for the best. What happened? I can't give that away. What I can say is that I shook my head, argued with the characters, shouted expletives when I thought they had made bad decisions, and warned them time and time again about the potential heartache. The book is the first part in a duet. It did leave off on a cliffhanger, but I expected that, what I didn't expect was to be left with my jaw hanging on the ground!



*4.5 Stars