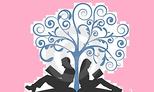 The Life We Almost Had is a heartwarming second chance love story that is filled with Laura Miller's signature small-town charm. Her words effortlessly transport her readers to Sweet Home, Missouri and into the blossoming friendship and love story of Iva and Berlin.

There's nothing better than a love story that begins early on in the characters' lives. I always enjoy witnessing the very beginning of a relationship - from their first glances to the burgeoning friendship and, ultimately, to the deeper feelings that develop with every moment that they spend together.

In The Life We Almost Had, the story is told from the past and present day from both character's perspectives. I adored stepping back in time to when Iva and Berlin were only twelve-years-old. I not only enjoyed watching their first interactions, but it also made me reminisce about my own childhood, the simpler, carefree times that now seem so long ago.

It was so easy to lose myself in this novel. I was immediately invested in Iva and Berlin's lives. There was a familiarity to them, as though I knew them and had a connection to them. Laura Miller created characters that were so endearing, likable, and she always makes the story seem so personal. Being from a smaller community myself, it just made the whole story that much more vivid. I could easily visualize the setting and the characters, and with each chapter, I could see the story playing out in my own mind.

The Life We Almost Had is an emotional, sweet, utterly romantic novel that will make even the most skeptical reader believe in the power of true love. The author captures the beauty and simplicity of first love, and demonstrates the unbreakable connection and bond that keeps these characters' hearts beating for one another over the years. This book made my own heart beat that little bit faster and left me smiling from ear-to-ear.







*4.5 Stars