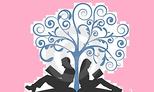 ​The last book in a series is always bittersweet. I feel as though I've known Gideon and Eva and have been on this journey with them from the start – and in a way, I suppose I have. From the beginning of their relationship, through the tumultuous times (and they've had many), and right until the final page of the series, I have been rooting for them and watching their relationship grow.

When I started reading One with You, I had almost forgotten how quickly their relationship had developed. The whole series only spans the course of a few months. Theirs could only be described as a whirlwind relationship, but during that short time period, I got to witness their growth – both as individuals and as a couple.

Their relationship was always extremely passionate, but in this book there was something about their bond, their connection, and their need for one another that just took their passion to a whole new level. Despite Gideon's dominant alpha demeanor, his softer side seemed to show more and more where Eva was concerned, and his romantic side just emanated from his hardened exterior. I loved that part of the series. I was able to witness this damaged, tough-as-nails businessman just fall madly, head over heels in love with this woman.

In this final book, while I felt that their relationship was strong enough to survive, they were never without their issues. While they had their own personal demons to overcome, they also had people who seemed to want nothing more than to come between them and ruin them. But all of this just made them lean on each other more and realize that they could get through the hardships together.

One with You wasn't without its surprises. There were things that transpired that I can honestly say that I never saw coming. I was more than happy to see that the author could still surprise me in this series…and she certainly did.

All in all, I would have to say that I was satisfied with the conclusion of Gideon and Eva's love story. It had all of the passion, the heart, drama, and love that I had come to expect from this series. The Crossfire Series will definitely go down as one of my favorite series. I am looking forward to reading the next series that Sylvia Day's creative mind comes up with.



*4 Stars