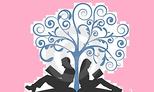 More Than Water is more than just your typical love story. It is a superbly written book with characters that you will like from the moment they're introduced on the first few pages. The description and infusion of art and science throughout the book just added an extra layer of beauty and substance to an already amazing story.

EJ and Foster are co-workers. That would appear to be all that they have in common. EJ is an art history major who dyes her hair to match her mood or to coincide with the seasons, while Foster is a chemical engineering major who gives off a scholarly and serious vibe. The banter between EJ and Foster is hilarious, sparking an easygoing friendship and camaraderie between the two.

One night of drinking games leads to an even later night of passion between EJ and Foster. Neither of them wants to be in a relationship. They have both been hurt in the past and aren't ready for anything serious. When EJ and Foster decide that they would like to try being friends with benefits, the lines begin to blur.

I loved these characters. Foster with his Buddy Holly glasses, gargantuan brain, and dry humor. EJ with her no nonsense, sarcastic, and often inappropriate remarks. The two of them just complimented each other perfectly. Don't get me wrong, Foster may have had the glasses and the fantastic grade point average, but that didn't make him a nerd. He was gorgeous, social, and was not inexperienced when it came to the ladies.

As a reader, I wanted to see Foster and EJ together. I wanted them to just let down their guards and admit that they had deeper feelings for one another. Opposites do attract, but they had more in common than what was simply on the surface. There was a passion, rawness, intensity about them when they were together that just made them seem as though they were the only two people in the world. Sigh.

I honestly can't say enough good things about this book. I was completely immersed in the beauty and chemistry of Foster and EJ's relationship from beginning to end. More Than Water had all of the elements that I crave when reading a book - I laughed, felt, swooned, and fell in love right along with the characters. The only time I was disappointed was when I reached the final page. This is a fantastic book that will definitely be making my list of favorite books for 2015!





*5 Stars*