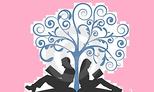 I Flipping Love You is a fun, lighthearted, sexy little romp through the Hamptons. It's high on wit and romance, and low on angst, which makes it a great addition to your own beach bag. It's the perfect source of escapism.

Right from their very first introduction, I knew that Rian and Pierce's interactions were going to be pure gold. They had an instant spark and attraction, but their banter was what truly won me over. While he was a little pushy, flirtatious, and smug, she was very prickly and antagonistic toward him. It's this kind of back and forth that, in my opinion, adds to the best chemistry between characters. There was certainly no denying the chemistry that these two shared!

While a relationship wasn't really on either of their summer agendas, a little, no strings fling was an entertaining diversion from their competitive real estate endeavors. But as we all know, no matter how many times we tell ourselves that we can keep our feelings at bay, feelings have a way of getting in the way and tugging at our heartstrings. Despite Rian's best efforts to keep everything light and easy, she couldn't seem to stop Pierce from stealing a piece of her heart. But Rian had her own reasons for wanting to keep Pierce at arm's length. It was easier for her to keep him in the dark about her family history, as her past always had a way of sabotaging any potential relationship.

Helena Hunting did a fantastic job of creating these characters. I couldn't help but like them and root for them. While the main characters took the stage front and center, I must admit that the secondary ones were just as good. It was Muriel who stole the show for me. This older neighbor may have had a small role, but she sure packed a punch and had me laughing out loud, wishing there had been more scenes with her.

I Flipping Love You was just an all-around entertaining read. It had the ideal balance between humor and heat that will have me coming back for more books by this author in the future.



*4 Stars