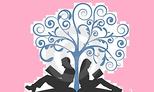 ​

​Gods & Monsters is a tale of young love, first love, and forbidden love. It begins when Evie and Abel are twelve and fourteen. We get to see their first introduction, and over time, we get to witness their friendship, and their deepening feelings as their relationship evolves into something more. Much more.

Living in a small community, Evie had lived a somewhat sheltered life under the watchful eye of her mother. When Abel Adams moved to town, the neighbors were already well aware of him and called him a monster. But Evie didn't care about the whispers or the rumors. She just wanted to get to know the lonely, ostracized boy who caught her eye. It was pretty easy to be swept up in Evie and Abel's sweet love story. I found myself becoming invested in their lives very early on in the book, and I continued to root for them as they navigated through the rough waters of their young relationship.

If you enjoy coming of age love stories, you'll be quite enamored with this one too. But this was my second time reading a book by this author and I wasn't exactly at ease. It turns out, I had good reason not to be. Saffron A. Kent excels at writing raw, gritty love stories. Evie and Abel's relationship was nothing short of passionate, intense, and all-consuming. Their need, desperation, and desire for each other was palpable. I believed in their love. It burned so hot and so bright that it would be impossible not to be drawn to it. But as we all know, anything that burns so strong and so bright also runs the risk of getting extinguished. What began as a sweet, innocent relationship, took on a life of its own.

I was moved by the author's storytelling and her profound ability to make her readers feel every word that she writes. It is evident that she puts her whole heart and soul into her characters and their stories. Gods & Monsters is an interesting and unconventional love story. It kept me on pins and needles, and made me slightly uncomfortable. I never felt certain of what was going to become of these young lovers. But if I may be perfectly honest, I thrive on the types of books that push me out of my comfort zone and take me on a bumpy, uphill journey. I'll admit that it took me places where I never expected to go, and it surprised me along the way, but I was fully committed and ready to see where the story would take me.

Gods & Monsters was a good, intriguing story that kept me glued to the pages from beginning to end.





*4 Stars