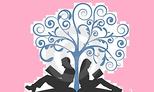 ​

When Dante is taken to another new foster home, he is less than optimistic. What's the point? He won't be there long. They'll send him back soon enough, they always do.

From the moment I started reading this book, I knew that it was going to be special. Dante captured my heart early on and had me rooting for him until the final page. Dante hasn't had an easy life. He has never felt wanted in all of his seventeen years. From all of his time spent at different foster homes, group homes, and juvenile detention centers, he has always had to look over his shoulder, watch his back, and sleep with one eye open. He is just a lonely young man who needs to be given a real chance at life.

I don't think that I could've asked for a better cast of characters for this novel. The new foster family, the McKinleys, have a beautiful home, everything that they could possibly need, and more love than they know what to do with. But what they want to do is offer a safe and nurturing home to a boy who's never experienced a real family life. At Dante's first glance, they appear to be the perfect family, but they are far from it. That's what I enjoyed about them, they're normal – they argue, yell, complain, and swear – a lot. They find ways to function through their dysfunction. They aren't portrayed as some super family who has all the answers.

Despite the inviting atmosphere that the McKinleys offer, Dante is filled with apprehension and doubt. He is constantly bombarded with the fear that all of this is just too good to be true. He'll do something and get sent away, it's just a matter of time. Witnessing him adapt to this new lifestyle had me constantly wiping away the tears. If I could've reached through my Kindle to give him a hug, I would've.

The smallest things that most of us take for granted on a daily basis mean the world to Dante– a soft pillow, a clean bed, three meals a day and snacks. But aside from these 'luxuries' that he has never had before, what Dante really wanted was to belong, to be accepted, to have someone believe in him. Gah! Have I mentioned that I absolutely love Dante?

Filled with so much emotion and heart, Fostered gives the reader an opportunity to watch one young man's journey to finding a loving home and family to call his own. His journey isn't easy, but it's well worth the trip. Vanessa Marie has done an incredible job of taking a serious subject and treating it with the care that it deserves. When my heart wasn't aching, I was either crying or laughing out loud. Yes, the McKinleys are a zany and hilarious family!

If you are looking for a book that will break your heart, fill it with hope, and even give you a touch of romance, I highly recommend Fostered. Now, I'm going to go and give my family a big hug and count my blessings.





*5 Stars